Conserve Your Cash and Preserve the Past:
English Heritage and The National Trust
by Dawn Copeman
Between them they own and manage most of Britain's historic sites. Become a temporary member of them and you can save money on your visits to castles, Roman ruins and pre-historic sites and at the same time know that your visit is helping to preserve these sites for the future. Who are they? They are English Heritage and The National Trust.
English Heritage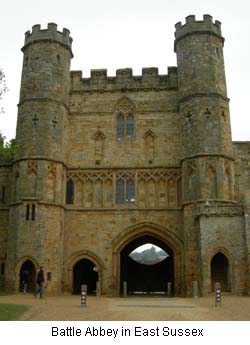 English Heritage is part funded by the British government and advises the government on matters relating to the historic environment. The remainder of its funding comes from memberships and revenue earned from visitors to its historic sites. English Heritage owns and manages over 120 of the country's finest historic sites including:
Stonehenge
Large sections of Hadrian's Wall
Battle Abbey (site of the Battle of Hastings)
Tintagel (the believed castle of King Arthur)
Osborne House (The Isle of Wight summer home of Queen Victoria)
Apsley House (home of The Duke of Wellington)
Lindisfarne Priory
English Heritage is responsible for granting 'listed' status to houses or buildings, to preserve them for the future. It also gives grants to owners of listed buildings to enable them to maintain or repair their property. In addition it provides grants to repair places of worship such as churches or abbeys and English Heritage funds archaeology in England.
As an overseas visitor, you can purchase a seven or fourteen day Overseas Visitor Pass, which entitles you to free, unlimited, entry to all English Heritage sites and comes complete with a guidebook to all English Heritage properties. The pass can be bought on-line before you travel, in which case allow 21 days for delivery or from any of their sites. For current information on costs, visit http://www.english-heritage.org.uk/server/show/nav.18175.
To give you an idea of the amount of money you would be saving, the average entry fee for a single adult varies between £4.00 and £8.50, so you don't need to visit many properties before your pass has paid for itself.
The National Trust
The National Trust receives no government funding and relies entirely on membership subscriptions from over three million members and visitor revenue. Despite putting all its funding back into the preservation of its land and buildings, four out of five of its historic houses run at a loss. The National Trust was founded in 1895 by Miss Octavia Hill, Sir Robert Hunter and Canon Hardwicke Rawnsley, philanthropists concerned about the impact of industrialisation on the countryside of England, Wales and Northern Ireland, (there is a separate National Trust for Scotland). Today the National Trust manages over 612,000 acres of countryside, 600 miles of coastline and over 200 buildings and gardens, including:
Chartwell, Kent (home of Sir Winston Churchill) (for more information, see Chartwell: Churchill's House of Refuge).
Woolsthorpe Manor, Lincolnshire (17th Century home of Sir Isaac Newton)
Bateman's, Sussex (Jacobean house and home of Rudyard Kipling)
Housestead's Fort at Hadrian's Wall, Northumberland
Monk's House, Sussex (retreat of Virginia Woolf)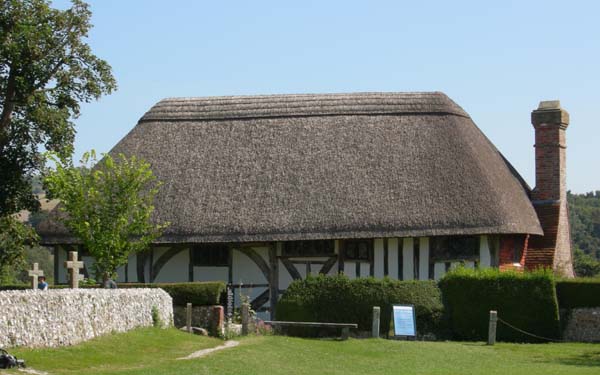 The Alfriston Clergy House in East Sussex was the first building purchased by the National Trust; it offers visitors a glimpse of a traditional medieval "Weald" house and an extensive garden.
Overseas visitors can obtain a seven or fourteen day Tourer's Pass for free entry to over 300 houses and gardens in England, Wales and Northern Ireland from any of the National Trust's sites or online. If buying online allow 28 days for delivery. For current costs, please visit http://tinyurl.com/ygodp5.
Alternatively, you might consider joining The Royal Oak Foundation. This organisation provides its members with free access to all National Trust sites in England, Wales and Northern Ireland; a copy of the National Trust handbook; three copies of the National Trust Magazine and the quarterly Royal Oak Newsletter. The Royal Oak Foundation also awards scholarships to US residents to study in Britain and arranges lectures around the US to discuss the work of the National Trust. The Royal Oak Foundation currently has around 30,000 American members. For details, visit http://www.royal-oak.org/.
Extra Benefits of Membership
Members of English Heritage and or The National Trust can also claim reduced entry prices to other historic sites not owned by them such as:
Fishbourne Roman Palace, West Sussex
The Historic Dockyard, Chatham, Kent,
Warwick Castle
So, if you're coming to Britain, think about joining English Heritage or the National Trust, not only will you save money, you'll help these organisations to maintain the sites for future generations to enjoy.
Related Articles:
Spend Your Holiday "Mending Fences"! by Liz Hearn

Conservation Holidays in the UK, by Tracy Kramer

Holidays that Restore You -- and the Past, by Louise Simmons
More Information:
English Heritage

National Trust

Royal Oak Foundation
---
Dawn Copeman is a freelance writer and commercial writer who has had more than 100 articles published on travel, history, cookery, health and writing. She currently lives in Lincolnshire, where she is working on her first fiction book. She started her career as a freelance writer in 2004 and has been a contributing editor for several publications, including TimeTravel-Britain.com and Writing-World.com .
---
Article © 2005 Dawn Copeman
Photos © 2007 Moira Allen