Travel Back to the Middle Ages at a Medieval Festival
by David Smith
If your visit to England happens to coincide with one of the many Medieval Festivals that are staged at various places, you could enjoy a day out that is guaranteed to be particularly memorable -- so don't forget to take the camera! There are quite a few of these Medieval events, and an excellent guide to all UK re-enactment events can be found at the Tudor Times website.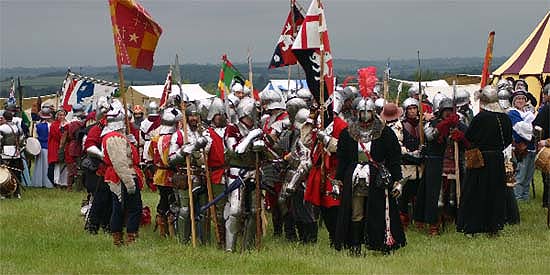 Of course, they vary in scale and in quality, with the biggest not always the best. Some make much more effort to be historically accurate and to try and help the visitor suspend disbelief than others. I have to declare an interest here, as I stage five Medieval Festivals, and we try extremely hard to make them as authentic as is possible -- bearing in mind that we'd prefer not to have people dying of dysentry or folk really maimed or killed in tourney or battle!
I stage the Loseley Medieval Festival, the Befordshire Medieval Fayre, the East Anglian Medieval Fayre, the Sussex Medieval Festival, and the Christchurch Medieval Festival. The Bedfordshire and East Anglian Medieval Fayres are staged at old WW2 airfields with associations to the USAAF: Glen Miller flew off from Twinwood Airfield near Bedford, bound for Paris, and was never seen again.
As just one example, the annual Loseley Medieval Festival will be staged over the weekend of June 3rd and 4th 2006 at Loseley Park, close to Guildford in Surrey, within easy reach of London. Loseley Park surrounds the exquisite Tudor Loseley House, which was specifically built to entice Queen Elizabeth 1st to visit the More-Molyneux family, who still live there to this very day. It is one of the few large Country House Estates still owned and lived in by the family who built it for more than 400 years. Loseley Park is open to visitors, and well worth seeing.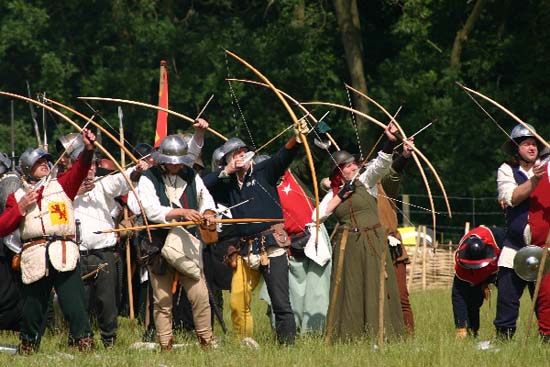 The Loseley Medieval Festival features re-enactors portraying the late Medieval Period (roughly the 14th and 15th Centuries), when blackpowder artillery was beginning to play an important role in warfare but the longbow was still the main long range weapon. At the Loseley Festival, events will be enacted by the Medieval Siege Society, Europe's largest 15th Century Medieval re-enactment group, who portray various households involved in the long and bloody struggle between two branches of the same family for influence and control of the throne of England that became known as The War of the Roses. Another group is The Compagnie of Saynte Barbara, a mercenary outfit of artillery with various weapons including the amazing Bombard, a siege piece weighing nearly 2 tonnes that makes the ground shake. Other groups who will be at the Loseley Medieval Festival include the Paladins of Chivalry, The Herbert Household, and Destrier.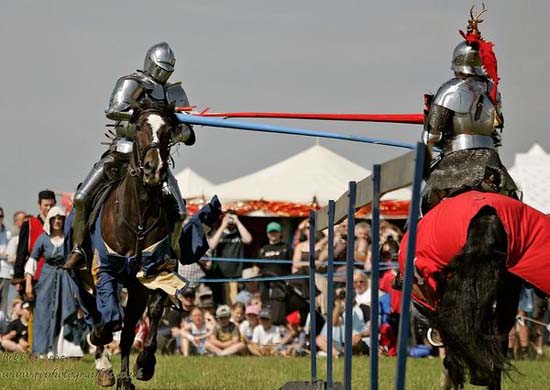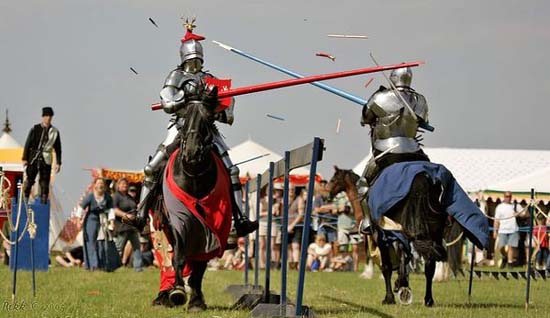 Destrier is the best Jousting Group in the UK, if not in Europe, and will be performing Mounted Hunting Games each morning and a Knight's Challenge Jousting Tournament each afternoon. This is real competitive full-on jousting, with real knights in real armour on real horses galloping towards each other at 30 or so miles per hour (thus closing at nearly 60 miles per hour, rather above the speed limit in most states!) with real wooden lances and the intention of shattering those lances on the opponent's shield or armour and possibly unhorsing them as well.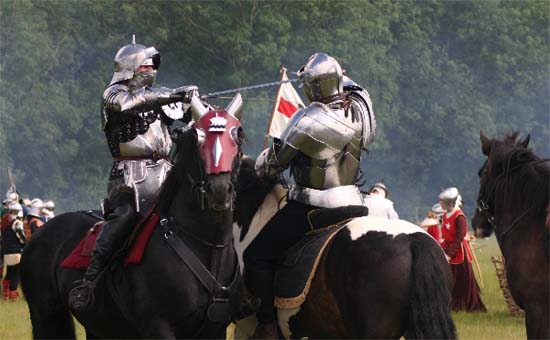 Other displays and demonstrations include Sword Fighting, Falconry, Dance, Skill At Arms, Archery, Artillery, and Arming the Knight -- a fully armoured knight needed help to fit all the different pieces of his armour onto the padded undergarment called an Arming Jack, and it was not a quick or easy process. Each piece has to be carefully and safely secured by straps called points, so that they afford the necessary protection but enable the knight to move easily. It is a common misconception that a knight in full plate armour had to be winched onto a horse. In fact, a fully armoured knight is highly mobile and can sprint in his armour, as well as stand and fight. You'll be able to see just how quickly they can move and how mobile they have to be when watching the Sword Fighting: we have timed Lord Despencer, one of the country's finest medieval swordsmen, and he can strike properly aimed blows at 120 per minute with his right hand, and only slightly less than that with his left. Hard to believe? Watch the video clips available at http://www.lancasters-armourie.info/vids/final2004/the_finale.htm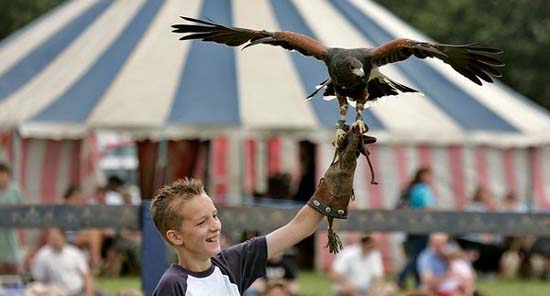 Throughout the day you can also explore the Living History Encampments of the various re-enactment groups, where they depict the every day life of retinues on campaign during the period of the Hundred Years War with France and the Wars of the Roses. You can see demonstrations of various crafts, including weaving, sewing, spinning, fletching, bow-making, blacksmithing, woodcarving and of course cooking (but no potatoes, as they had not yet reached Europe!).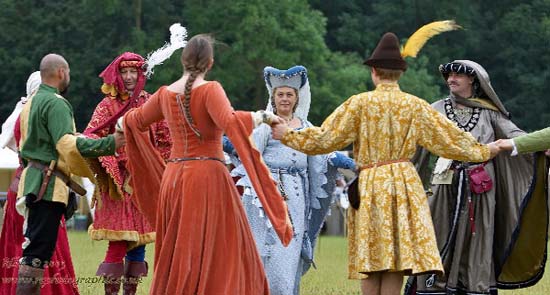 For anyone requiring a little retail therapy, there will be a sizeable Medieval Market featuring specialist historic traders and craftsmen and women from all over the UK and Europe. You can find a remarkable range of things for sale, including Swords, Shields, Long Bows, Cross Bows, Arrows, Jewellery, Frankincense, Soap, Wooden Bowls and Platters, Leather and Pewter Tankards, Cutlery, Tents, Furniture, Icons, Candles, Plate Armour and Chain Maille, Clothing, Leather Hides, Sheep Skins, Toys and Games, Bolts of Woolen and Linen Cloth, Silks, Boxes, and of course, there will be Caterers and a Beer Tent, and the famous Loseley Park Ice Cream made from their own herd of Jersey Cows.
Each day culminates in a recreation of the Battle of Northampton from 1460, staged by the Medieval Siege Society. This battle, from the War of the Roses, was remarkable in many ways. The Lancastrian faction, led by the Duke of Buckingham, had control of the mentally ill King Henry VI, and were camped at Northampton. The Yorkists, who were feeling hard done by because they were excluded from the king's council, arrived under the leadership of the Earl of Warwick, and demanded to see the king. Permission was not forthcoming, and the Yorkist army took to the field to try and decide things through force of arms. They had the larger army, but the Lancastrians were in prepared defensive positions and had the advantage of the Royal Artillery Train. After a lot of fierce fighting, things were at pretty much stalemate, until a sudden downpour soaked the black powder and silenced the artillery.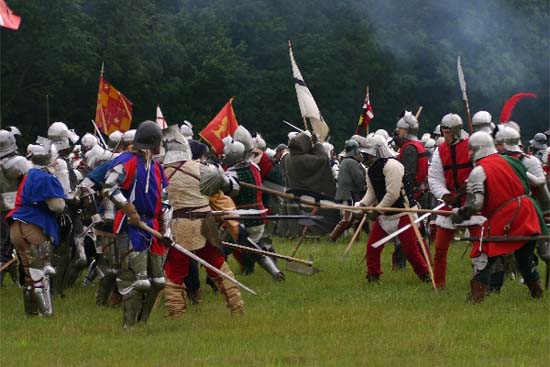 At that point Earl Grey, in charge of a large part of the Lancastrian Army, decided that the Yorkists were the more likely victors, and treacherously changed sides, thereby ensuring a Yorkist victory. Unusually, the Yorkists chose to execute most of the Lancastrian noblemen, whereas the normal practice was for ransoming the rich. It was a bloody end to a bloody day with heads on poles! The poor deranged Henry VI now came under the control the Earl of Warwick, the Yorkist power broker who became known as The Kingmaker because of his influence over who was on the throne.
Of course, neither the re-enactors nor I can guarantee a sudden downpour, let alone just over the Lancastrian Artillery, so another solution was required for the enactment. This was to have a party of brave Yorkists advance towards the Lancastrian positions, and from this party a torch-carrying volunteer sprints towards the enemy, launching his flaming brand at the Black Powder Magazine. The results are spectacular -- when we did this battle last year at the Bedfordshire Medieval Fayre it was described by one very experienced re-enactor as "simply the most awesome pyrotechnic I've ever see on a field of battle." And you can imagine the noise!!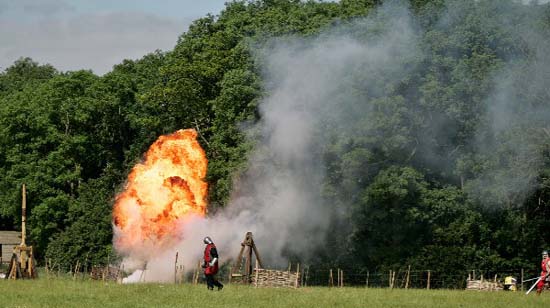 More Information:
More information on David Smith's Medieval Fayres

Tudor Times Events Guide

Loseley Park

Medieval Seige Society
---
David Smith has been organizing various events for the past fifteen years, and has recently been persuaded to get involved in running historic re-enactment events. He is a whisker away from being 50, and is proud to be the servant of two Norwegian Forest Cats, called Darcy and Pashabelle. Previously he has been a Chartered Accountant, and has a degree in English. He used to take a lot of photographs of his events, but recognizes that RikkΥs pictures are much better than his own!
---
Article © 2006 David Smith Photos © Rikk Cahill; see more images at http://www.rcphotographic.co.uk