Getting Involved in Off-Season Archaeology
by Sara Polsky
For travelers who visit Britain during the archaeological off-season -- most excavations take place during the summer -- or who do not have the time for a multi-week excavation, regional digs offer plenty of opportunities for training or casual participation. Several companies and local archaeological societies, from Lincolnshire to Gloucestershire, teach mostly-weekend fall training courses meant to give visitors a taste of archaeological fieldwork or welcome travelers on volunteer-run projects.
A Weekend Introduction
One such company is Lincolnshire's Lindum Heritage, which teaches weekend courses on the archaeology of everything from Roman Britain to churches, in addition to offering a summer excavation of Roman remains in Sudbrooke, Lincolnshire.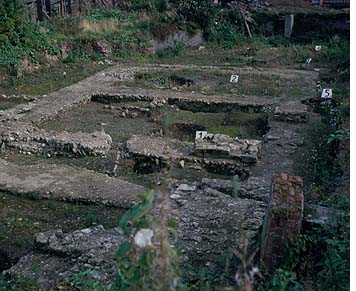 For curious beginners, Lindum Heritage -- run by University College London-trained archaeologist Zoe Tomlinson and Craig Spence, a lecturer on history at Bishop Grosseteste College -- offers an "Introduction to Archaeology" course. The class includes lectures, tours of historic and archaeological sites, and a laboratory session involving investigation of excavated ceramics. The one downside of the course is that it does not guarantee a visit to an archaeological site, an essential component of learning about archaeology (though Lindum promises such a trip if there is a local excavation available).
For those wondering about the next step after excavation -- analyzing the finds from a site -- Lindum also offers a class on "Looking at Archaeological Finds." This course, which will be offered from October 7-9 this year, features lessons about pottery, glass, bone, and other aspects of material culture. This course does not include visits to or participation in any excavations, but offers a grounding in archaeological methods during what is otherwise usually an off-season for excavators.
Attendees with interests in particular locations or periods can also find learning opportunities with Lindum. Starting with Lincoln's Roman origins as a town called Lindum and moving forward through its Viking, Saxon, and medieval pasts, Lindum Heritage offers a "History of Lincoln" tour which includes visits to historical and archaeological sites. The "Roman Army" trip allows visitors to review Roman history while viewing Roman sites and monuments. "Deserted Villages" -- offered in September -- and "Hidden Churches and Chapels" are two other classes through which travelers can explore specific historical and archaeological interests. (And for those uninterested in archaeology, Lindum even offers a weekend-long workshop on writing historical novels.)
For more information on Lindum Heritage's courses, several of which are offered in September and October, visit their website. A weekend-long class costs £225 per person.
The Kent Archaeological Field School features similar introductory classes on a more regular schedule from March through November. The classes taught by the Field School, which leads summer excavations and publishes "Practical Archaeology" magazine, go beyond British archaeology to Sicily, Spain, and Provence. For English archaeology-enthusiasts, however, there are still plenty of weekend offerings, including "Prehistoric Kent" and "Roman Roads in Kent." Though these classes are short introductions, students will be able to acquire hands-on experience. The Roman roads course, for instance, allows students to excavate and record one section of Kent's Roman roadways. For more information, visit the Kent Archaeological Field School's website. Classes cost £35 per day, with discounts for Kent Archaeological Field School members.
Joining a Local Tradition
In addition to the formal courses offered by companies like Lindum Heritage and the Kent field school, local archaeological societies also often have excavations at which volunteers are welcome. Because a large number of these excavations take place on weekends only, many extend into the fall.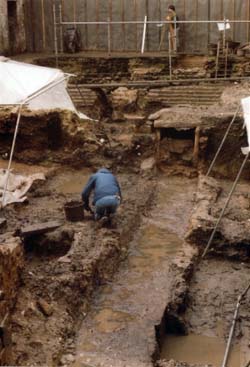 The Frocester excavation, which has been run by the Gloucester and District Archaeological Research Group (GADARG) since 1961, is one such weekend-only, volunteer-maintained project -- and it is also Britain's longest-running continuous excavation, according to the project website. Best known for the Frocester Court Roman Villa, the site has 4,000 years of archaeological material for volunteers to excavate, extending from the Bronze Age through Roman times.
This year, the Frocester excavation runs through October, from 10 AM to 5 PM on Saturdays and Sundays, and describes itself as offering "informal training" for volunteers without fieldwork experience. For information on the project's first forty years and on how to get involved, visit the GADARG website.
Another weekend excavation opportunity is the Rushton Roman Bath House. The site -- this year's excavations focus on the graveyard and road at the bath house -- is open on Sundays from 10 AM to 4 PM. For more information, visit the Ise Archaeological Research Society website or the project's Current Archaeology listing.
In the Burton Hills of South Warwickshire, volunteers can join the Fenny Compton Project run by the Feldon Archaeological Society. The project is investigating a 20-acre site that likely dates from 200 B.C.E., but which encompasses several periods -- volunteers have already excavated a villa and other Romano-British features. Volunteers excavate at Fenny Compton twice a week through November.
Those who are looking for fall excavations but have the time to attend a longer dig may also attend the North Park Farm excavation in Surrey, organized by the Surrey Archaeological Society. North Park Farm is a quarry in East Surrey, in which archaeologists found materials dating from the Mesolithic period (8000 B.C.E. to approximately 4300 B.C.E.) and on through the early Middle Ages. The society is particularly interested in the site's Mesolithic contents, which include evidence of flint-making, fires, and potentially even cooking. Moreover, these artifacts are preserved within an undisturbed soil layer, providing unique evidence of Mesolithic occupation and activities over several millennia.
Volunteers joining the North Park Farm training excavation are encouraged to stay for one week, and preferably two. The £25 site cost does not include accommodation. The Surrey Archaeology Society's website includes information about the society's year-round lectures and landscape surveys, in addition to the excavation details. These classes and excavations are a small selection of the opportunities available for weekend and fall travelers looking for fieldwork experience. The best place to start searching for other options is the excavation list maintained by Current Archaeology. The list is available at http://www.archaeology.co.uk/digs, and it includes both "weekends only" and monthly search options.
More Information
Feldon Archaeological Society

GADARG

Ise Archaeological Research Society

Kent Archaeological Field School

Lindum Heritage

Surrey Archaeology Society
---
Sara Polsky's writing has appeared or is forthcoming in The Christian Science Monitor, Renaissance Magazine, Student Traveler, and other publications, and she has participated in archaeological excavations in New Jersey and Massachusetts. She is a 2007 graduate of Harvard University.
---
Article © 2005 Sara Polsky
Top photo © Moira Allen; bottom photo courtesy of Wikipedia.org.