Lynton and Lynmouth: The Twins of North Devon
by Christina Hamlett
Like fraternal twins separated at birth, Lynton and Lynmouth have grown up on either side of the Exmoor headland's wooded cliffs, their personalities shaped by the respective influence of society and sea. Both comprised of thatched cottages and quaint shops reminiscent of a child's storybook, Lynton is the more aristocratic and leisurely of the two. Lynmouth, situated below in a gorge carved by the confluence of two rivers, is an unabashed fishermen's village, teeming with an energy little changed from that of its ancestors over a century ago. The combined population of these two villages has grown very little as well, in spite of the attractive draw of their location, climate and the surrounding natural beauty of Exmoor National Park.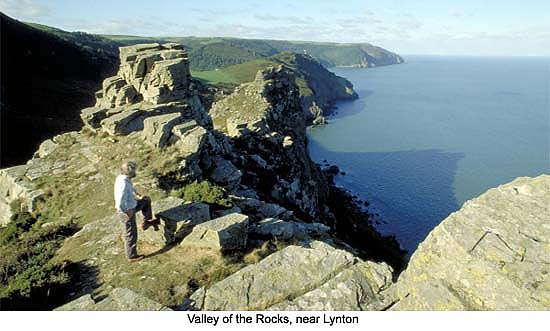 To really appreciate the appeal of the North Devon Coast, however, one needs to understand that the region never aggressively positioned itself as part of mainstream England and, thus, failed to attract a rash of greedy nobles who not only might have run things differently but might have attracted enemies in the process. Its actual origins date back to the Neolithic and Bronze Age, a backdrop that's easy to picture as you wend your way along the rocky coastal trails. Prehistoric artifacts, tools and fossils are not an uncommon sight in the area's historical museums, as are the ruins and smattering of henges left behind by Romans, Normans and Saxons. Geographically undesirable in terms of a power base, it enjoyed the advantage of being left alone while the rest of the world pretty much went on without it.
The common folk who migrated here during the Dark Ages were primarily just trying to find warmer temperatures to do their farming, including the modest harvesting of grapes for wine. Distrustful of strangers coming in and upsetting their copasetic status quo, the impression they projected was that those who planned to take up residence might not necessarily be welcomed with open arms. As insular a community as they tried to maintain, however, it was no protection against the spread of plague, the decline of a woefully limited economy and the pernicious tricks of Mother Nature. A succession of brutal winters, droughts and even an earthquake in nearby Barnstaple in the late 1600's left many starting to think that maybe shooing away the tourists hadn't been such a good idea, especially in the unbidden absence of healthy, able-bodied locals to do the work.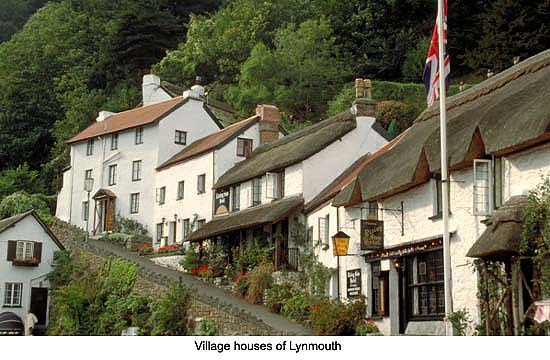 It was the advent of the Napoleonic Wars that finally inspired them to warm up to the idea of tourism as a way to generate the much needed capital to keep their villages humming. Fearful of traveling to Europe and yet anxious to slip away from some needed R&R, English travelers on holiday made the discovery that northern Devon had all the charm and amenities of the continent but was secluded enough to sidestep any physical danger. To the surprise of the locals, Lynton and Lynmouth quickly became a retreat for painters, musicians, poets and writers seeking a tranquil setting to exercise one's muse. With the arrival of luminaries such as Samuel Coleridge, William Wordsworth and Percy Shelley, it soon grew apparent that more inns and eateries were needed to accommodate the favorable word of mouth publicity being spread. So competitive was the inn trade that telescopes and runners were put to use in order to claim dibs on the latest arrivals, a humorous scenario that conjures the more modern image of what happens when a prospective buyer steps onto the lot of a car dealership.
Nicknamed "Little Switzerland," the villages retained their popularity as a sequestered resort through the Victorian era, an influence reflected in the number of tea rooms, vintage hotel furnishings, and museums that feature memorabilia and photos from the turn of the century. Visitors can also marvel at the water-powered Cliff Railway installed in the 1890's to facilitate easy travel between the two towns.
Our own discovery of Lynton and Lynmouth was purely the product of accident. Literally. A multi-car collision on the A-39 west of Minehead threatened a delay that put us at the vexing midpoint of being too far away from our intended destination as well as too far just to turn around and return home. Although we had packed for an overnight stay, the impending approach of sundown and our lack of a reservation also meant that we might be deprived of a room for the night. Given that two out of three of us consider "roughing it" the condition of not being able to plug in a blow dryer and a curling iron, we outvoted our male companion and insisted on taking the next available turn-off.
Our spontaneity was rewarded not only with a modestly priced inn (plus full breakfast) on the main street of Lynmouth but enthusiastic recommendations for dining and sightseeing as well. We also had the luck of arriving before the Memorial Hall had closed its doors for the day, providing us with a harsh look at how the forces of Mother Nature nearly erased all evidence of Lynmouth's existence from the map.
The exhibition hall, built to commemorate those who lost their lives, features a gallery of photographs and artifacts from a violent summer storm and flood in 1952 that sent over a hundred thousand tons of water, boulders, mud and debris crashing through the village streets. The combined forces of the East and West Lyn Rivers were enough to topple houses and shops in their path, uproot entire groves of trees, and smash every fishing boat that was moored in the harbor. Repair of the destruction and the implementation of measures to ensure it would never happen again took nearly four years to complete. Such tragedies, of course, are never without the emergence of unsung heroes and the exhibit is generous in its praise of those who opened their hearts, their homes and their wallets in the aftermath of the flood's devastating effects.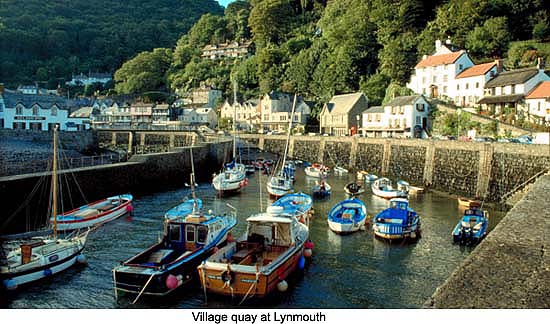 Acts of bravery, however, are no stranger to the seafaring residents of Lynmouth. In 1899, a cargo ship called The Forrest Hall was caught in a storm in the Bristol Channel off the Devon coast. When it became apparent that the conditions were too dangerous to try to undertake a rescue effort from Lynmouth harbor, a group of 20 men and team of 18 horses proceeded to drag a 3-ton lifeboat a distance of 14 miles (all hilly and in the dark) where it could be safely launched from another port. Even more remarkable than the fact that The Forrest Hall and all of her crew were saved is that this nighttime endeavor lacked the modern advantages of ship-to-shore communications. Sans any contact with The Forrest Hall for a period of over 15 hours, the Lynmouth volunteers had no idea if the battered ship would even be within sight by the time they reached the docks at Porlock early the following morning.
The nautical themes of the region are repeated in abundance in houses and inns that once knew the likes of sea captains and smugglers. At Watersmeet House, a Lynmouth fishing lodge dating from the 1830's, visitors can enjoy exhibits and a spot of tea. Now operated by the National Trust, Watersmeet is open daily from April to October during the hours of 10:30 and 4:30.
Save time as well for a tour of Town Hall. Its design, construction and ornamentation were financed by Sir George Newnes, a wealthy entrepreneur whose credits in publishing included the adventures of Sherlock Holmes and whose enthusiasm as a visionary of better transportation between the twin villages prompted the installation of the aforementioned Cliff Railway. By the way, if your holiday happens to fall on the first Saturday of the month, you won't want to miss the farmers market and crafts fair which opens at 10 sharp at Town Hall. This can then be followed by a brisk hike up to Hollerday Hill. Newnes was so fond of his adopted villages that he built himself a manor house up here with an enviable view. Although the estate was lost to a fire almost a hundred years ago, the woods and trails now occupying the site not only provide great exercise but panoramic photo shoots, too, including a view of the coast of Wales across the channel.
Another must-see while you're in the area is the Lyn and Exmoor Museum on Market Street in Lynton. In addition to its collection of Stone Age relics, this vintage building houses an extensive display of farm tools and seafaring equipment from the past two centuries and a Victorian dollhouse that will make you wish you could shrink yourself down to fit through the doorway.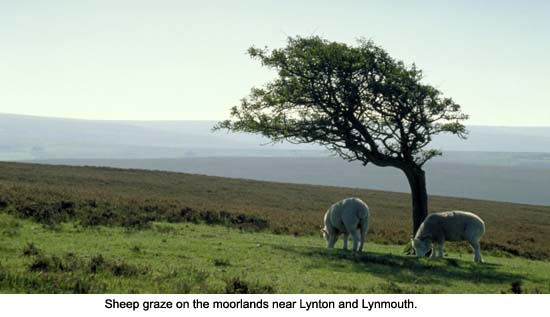 For outdoor enthusiasts, of course, Exmoor has more than just cliffside hiking to commend it. Sport fishing and boating have become popular draws, as are bicycling, horseback riding, and even lessons in the Medieval art of falconry.
Are there any train-lovers in your group? One of Sir Newnes' other bold ventures was to establish a railroad system in 1898 that would link Lynton with Barnstaple. Although it didn't succeed quite to financial expectations during his lifetime and subsequently became defunct, there was still sufficient regional interest to keep Newnes' notion rolling until the 21st century. Passenger trains are once more running between the two towns during the hours of 11 and 4, offering a leisurely venue in which to view the Exmoor countryside. Make sure you acquire a copy of the timetable first, though, as its service tends to be erratic during the non-summer months.
Speaking of Barnstaple, its proximity to Lynton and Lynmouth makes it a value added stop on your English vacation. Situated on the River Taw, Barnstaple's Saxon origins date back to 930 A.D. where its highest and best use at the time was as the first line of defense against marauding Danes. It also has the distinction of being the oldest borough in Great Britain, an honor that still gets frequent mention amongst its contemporary citizenry in taverns and shops.
Never a town to back down from a grand adventure (or a good fight), local lore has it that Barnstaple ships were quick to join the fray against the Spanish Armada in 1588 as well as outfit merchants who were in search of fortune in that "New World" everyone was talking about. Its emergence as a lively center of trade and commercial activity is still seen today in its eclectic assemblage of shops, farmers markets, art galleries and museums. Barnstaple also offers a self-guided historical tour that immediately reminded all three of us of Boston's Freedom Trail back home. Named the Heritage Trail, this walking tour covers 16 landmarks pertinent to the town's history and development. In addition, the town's Heritage Center located on Queen Anne's Walk is a multi-media exhibition hall that offers something of interest for any age group.
Time permitting, you're not that far from the town of Arlington and a must-see tour of the Arlington Court Estate. This Regency era manor house and surrounding gardens was a private residence until almost 1950. While romantics will enjoy an authentic carriage ride around the grounds, younger members of the family will squeal their heads off at something one wouldn't expect to find at so elegant an address. Let's just say that the former owner didn't keep bats in her belfry; they found a much more hospitable environment down in the basement.
More Information:
Lynton and Lynmouth Tourism

What's On Exmoor: Lynton and Lynmouth

Lynton and Lynmouth Scene

Lynton and Lynmouth Cliff Railway

Exmoor National Park

Visit Exmoor

Exmoor Tourism
---
Former actress and director Christina Hamlett is an award-winning author, instructor and script coverage consultant for the independent film industry. Her credits to date include 21 books, 115 plays and musicals, 4 optioned feature films, and columns that appear throughout the world. She and her husband reside in Pasadena, California. For further background, her website is located at http://www.absolutewrite.com/site/christina.htm.
---
Article © 2006 Christina Hamlett
Photos courtesy of Britainonview.com