Dover Museum - Home of the World's Oldest Ocean Vessel
by Julia Hickey
The Dover Museum is definitely worth a stop during a visit to nearby Dover Castle!
Situated in the Market Square behind a Victorian facade, this modern three-storey museum offers a comprehensive history of Dover's development from pre-historic times to the more recent past. Amongst the exhibits are Saxon jewellery and weapons excavated from nearby Buckland, medieval artefacts and evidence of Dover's growing importance as a Cinque Port. The museum also houses an original 1598 portrait of Queen Elizabeth I -- recently returned by London's Greenwich Maritime Museum.
Dover's civilian population are well used to living on or near the front line. William the Conquer, on his way to London paused only long enough for his men to burn the town. Dover's role as a fortress facing Napoleon's armies across the Channel is charted here too. Among its permanent exhibitions, there is an area in the museum dedicated to Dover's role and experiences during both world wars. The first bomb to be dropped on England fell near Dover Castle in 1914. The population not only grew used to the sight of England's young men marching through the town on their way to war but also to the constant threat of shelling. Despite finding itself under martial law during World War One, none of the inhabitants of Dover could have guessed at the scenes they would witness or the suffering they would undergo during World War Two. Dover Museum records 3,059 air raid alerts causing extensive damage and more than 200 civilian deaths. The exhibition and film lasting approximately 15 minutes demonstrates why this area of Kent earned the name Hellfire Corner.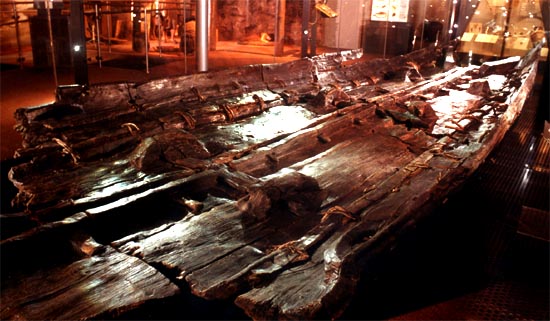 And don't miss the most exciting permanent addition to the galleries! Dover Museum is home to a Bronze Age oak boat that crossed the Channel some 3,600 years ago -- the time when Stonehenge was being built. This makes it the oldest sea-going vessel in the world. Found during construction work in Dover in 1992 it was immediately apparent that it was a very rare find indeed, not least because of its unusual construction; oak planks stitched together with twisted yew ropes. It needed to be carefully removed from its resting place, conserved using freeze-drying techniques at the laboratories of the Mary Rose Trust in Portsmouth and then returned to Dover to be reconstructed. Now, after years of work it is at the centre of a permanent display about the Bronze Age.
This family friendly museum wants to make history informative and fun. In addition to a stunning collection of artefacts built up since the museum first opened its doors in 1836, it offers a range of films, hands-on exhibits and activities as well as interactive computer experiences.
Related Articles:
Dover Castle: Fortress on the Front Line, by Julia Hickey
For More Information:
Dover Museum
---
Julia Hickey is passionate about England's heritage and particularly of Cumbria, where her husband comes from. In between dragging her family around the country to a variety of historic monuments, she works part-time as a senior lecturer at Sheffield Hallam University. She spends the rest of her week writing. In her spare time, she enjoys walking, dabbling in family history, cross-stitch, tapestry and photography.
---
Article © 2006 Julia Hickey
Photo courtesy of Dover Museum