Museum of Docklands
by Valery Garrett
Sixty years ago, when London was still the world's leading port, the Docklands, in the East End, employed a quarter of a million people, sending and receiving goods from all corners of the world. Today, there is little to remind us of those days, now the area is redeveloped and home to high-rise apartment blocks, banks and offices.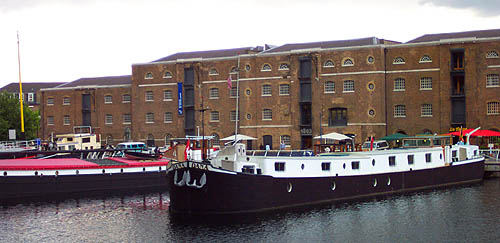 But as a tribute to its earlier fame the Museum of Docklands recently opened in one of Britain's oldest surviving warehouses. Twenty years in the making, this multimillion-pound conversion, funded by the Heritage Lottery Fund, now presents over 2000 years of a special part of London's history. With the old Docklands gone, the formation of the Museum, with its exhibits covering all of London's docks, preserves a valuable part of its history and worldwide connections.
The Museum occupies part of No 1 warehouse, built between 1800 and 1804, and designed by architects George Gwilt and his son. When the building first opened for trade in 1803, it stretched for half a mile along the quay, the longest brick building in the world. This magnificent late Georgian Grade 1 listed warehouse is in what was West India Docks, where warehouses housed costly cargoes of coffee, rum, sugar and spices brought from the West Indies. At different times of its life, Warehouse No 1 was also used to store molasses, tea, jute, coir, oil, spirits, shells, horns, cork, indigo, and baggage -- a wonderful cross-section of London port cargoes.
The spacious warehouse holds a wealth of exhibits from the past, and not only features West India Docks, but also East India Docks, St Katherine's, Blackwall, Wapping, and London Docks. The exhibits provide a tantalizing glimpse of a lost and almost forgotten world. With its wooden floors, columns, and ceiling beams of pitch pine, the building oozes history, with ghosts round every corner and the faint smell of spices in the air.
The story of the growth of Docklands starts on the third floor of the Museum. Through short video clips, Tony Robinson, presenter of BBC's program Timewatch, gives a potted history of the Port of London, beginning with the coming of the Romans to Britain 2000 years ago. The tale continues with the Viking invaders, and we then learn that in 1370 poet and storyteller Geoffrey Chaucer was Controller of Customs at Wool Quay, where bales of wool were unloaded.
After the rapid expansion of the East India Company in 17th century, their ships brought chintz from India, spices from Java and Sumatra, and chests of tea, bales of silk and crates of porcelain from Canton, now Guangzhou. These great ships, known as East Indiamen, were too large for the Pool of London, so they were unloaded with lighters down river and their cargoes brought to the Company's warehouses at East India Docks.
London soon became a great world port, and by the middle of the 19th century between 2500 and 9000 men were employed daily at West India Docks, East India Docks and St Katherine's Docks. Evidence of this is shown in the numerous displays, which include seamen's wills, papers from an East India Company steward, a model of East Indiaman Falmouth, and even a model of a gibbet for an execution at Wapping.
On the floor below is a recreation of Sailortown, where the sailors lived while waiting for a ship, complete with cobbled alleyways and wooden buildings. The narrow streets are lined with ships' chandlers, general clerks, taverns, and curio shops. Snatches of conversation and sailors' ditties fill the air. Peer into a sailor's house with its flagstone floors and see his clothes and tackle, or visit the exotic Animal Emporium, stocked as the result of far off voyages.
Finish the tour on the ground floor with a look at the men and women who worked at the docks before World War 2, followed by displays of Docklands' regeneration in recent years.
How to get there
Take the bus or tube to Bank, then Docklands Light Rail to West India Quay station. Turn right on coming out of the station; two minutes walk past the waterfront cafes takes you to the Museum at the far end.
Or take the tube to Canary Wharf, and cross the footbridge. The Museum is right ahead.
Museum in Docklands

No 1 Warehouse, West India Quay, Hertsmere Road E14 4AL

Tel 0870 444 3856
info@museumindocklands.org.uk

http://www.museumindocklands.org.uk/
Open 10am - 6pm 7 days a week; Last admission 5.30pm; Adult £5; Concessions £3; under 16 free.
---
British-born Valery Garrett divides her time between home in Hong Kong and a base in Yorkshire. A one-time fashion designer, now a full-time writer, she specialises in travel and textiles and is the author of ten books.
---
Article and Photo © 2005 Valery Garrett