Westways Carriage Horses: History for Hire
by Michele Deppe
Beneath the city's cutting edge culture and hip veneer, the London of yesteryear thrives. The lovely architecture charms, the gardens entice, and the palace guard still changes with reliable precision. But for a living, breathing experience of history, nothing is quite as magical as the clip-clop of hooves clattering through the streets of London, signaling the approach of a magnificent team of horses drawing an elegant Victorian-style carriage. Incredibly, they could be coming for you. (Not only is traveling by carriage enchanting, it's just plain wicked cool, when everyone else is taking the train.)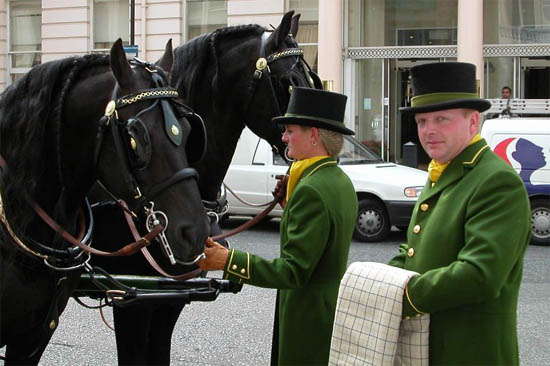 Although the horses and carriages cause a stir of excitement wherever they show up, many Londoners don't know whence they come from, or how to summon them. The man behind the mysterious appearances is David West. His business, Westways Carriage Horses.
David West's history with horses is life-long. He began riding at age three at his parent's riding stable in London. At age 17, he was hired to drive horses for Fortnum & Mason of Piccadilly. After several years there, he went on to work with Prince Phillip, husband of Queen Elizabeth, caring for the Prince's competition horses. Mr. West also gained experience hauling brewery products with a team of Shires. He worked abroad for a while, and then returned to England and gained a position at Harrods, the famous London department store.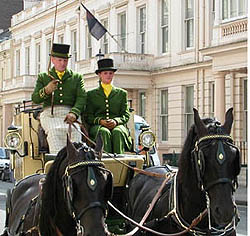 Begun in 1849 as a humble neighborhood market, Harrods kept up their tradition of delivering goods via a horse-drawn delivery van for many years. During Mr. West's 12-year tenure as a delivery van driver, he regularly brought luxury items to the late Princess Diana at her home in Kensington Palace. Back then, Princes William and Harry were delighted to visit with the horses, and take rides in the carriage. Not limited to delivering merchandise, Mr. West has graciously conveyed such celebrities as Christina Aguilera, Pierce Brosnan, Diana Ross and Cher to special events at the prestigious department store.
In April of 2003, Mohamed Al Fayed, the chairman of Harrods, sold his Friesian horses to Mr. West. These days, Harrods hires Westways for special events, such as bringing celebrities to the store for the annual sale. Mr. West is enjoying running his own stable, which is situated just inside the border of Surrey with convenient access to south London.
Westways Carriage Horses has never cancelled due to inclement weather; even the "convertible" Landau carriage has a waterproof hood. Incidentally, Westways provided the Landau used in the most recent film adaptation of Jane Austen's Pride and Prejudice.
Mr. West's carriages are available for weddings, advertising, private parties, evenings out on the town, and even funerals. Some clients are regulars. Mr. West confides, "Our carriage and horses are called upon regularly to take an Arabian prince and his wives to his favorite restaurant in Kensington."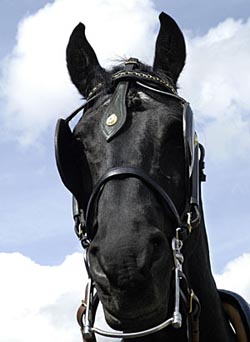 One doesn't need an excuse to treat one's self to a horse and carriage, but hiring them for special events makes an occasion especially memorable. "Westways recently provided nine horse drawn Landau carriages to collect a 70-year-old gentleman to take him and his 34 guests to his birthday party," says Mr. West. "They were collected at Wellington Arch at Hyde Park Corner and taken to Spencer House St. James' for dinner. It was a surprise for everyone attending, and it was a wonderful sight to see so many horses and carriages doing down Constitution Hill and around Buckingham Palace, all with the carriage lamps lit up on a winter's night."
For visitors not familiar with England, Mr. West is happy to make suggestions. "The possibilities are endless," he says. "Every occasion is different, that's what makes it so interesting. We don't have a set route; instead we would discuss with the client before hand what they are hoping to do, and then we just do our best to make it happen."
Far from being of the "nag" variety, Mr. West's stunning steeds are imported from Holland. These rare ebony horses command as much as $30,000 in the United States. Respectfully, but factually, Mr. West adds, "It is not like New York City, where carriages are for hire for a trot around Central Park. Our horses and carriages are turned out to the highest standard at all times. Many hours of work goes in to achieving that standard for each occasion."
Reservations are helpful. "When making a booking for the horses to be available in London -- or anywhere in the U.K. -- the more notice we are given the better," says Mr. West. "However, we are a professional, working stables and if we were asked to provide a pair of horses in six hours time, and we could do it, then we would." Usually, the horses are available for up to three hours, and a typical excursion costs about £575.00.
Westways Carriage Horses will expand their services in the near future, including education for horse handlers and quaint destinations for carriage rides. Mr. West says, "We soon hope to be organized to start with the carriage driving tuition. Also, we will be doing tours, with a coach and four (horses), of Surrey's country lanes, stopping at old inns for refreshment along the way."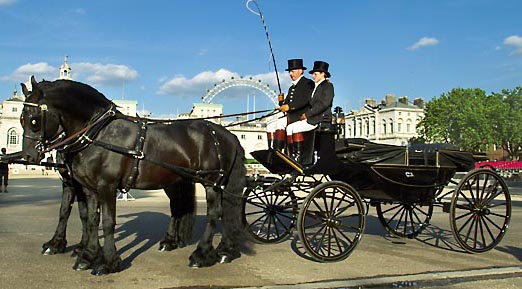 More Information:
Westways Carriage Horses

52 Pollards Oak Crescent, Hurst Green, Oxted, Surrey RH8 0JQ
Office/Stables: +44 (0) 208 6687825
Mobile: +44 (0) 7790 274182
---
Michele Deppe is a freelance writer and staunch Anglophile. Her hobbies include traveling to nations that value a good cup of tea, riding horses, painting, cooking, and loads of reading. Michele's Best British Travel Tip for summer: "Always pack warm clothes, even if you're going to England in August."
---
Article and photos © 2005 Michele Deppe