Highgate Cemetery: London's Spookiest Cemetery
by Kavitha Rao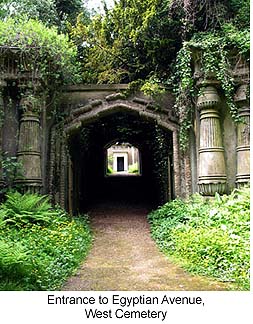 For a vivid contrast to Kenwood's genteel atmosphere, visit the nearby Highgate cemetery. This deliciously creepy Victorian cemetery has spectacular obelisks, catacombs, mausoleums and vaults scattered over 37 acres of overgrown woodland. Among the famous people buried here are Karl Marx, George Eliot, Christina Rossetti, Michael Faraday, the family of Charles Dickens, six Lord Mayors of London and the founders of many of London's most famous businesses, such as the venerable Foyle's bookshop and shoemakers John Lobb.
For the Victorians, death was an event to be marked with as much ceremony as possible. The West cemetery of Highgate was opened in 1839 and rapidly became so popular that it was extended in 1854 with the building of the East cemetery. Highgate was the place to be buried if you were a prominent Victorian. But cemeteries back then were more than just a place for burial; they were also to be enjoyed for their beauty and serenity. Highgate was a popular Victorian tourist attraction, and thousands came to marvel at the tombs and memorials.
The East cemetery is certainly an inviting place for a ramble, with shady paths and pretty clearings. It's the altogether darker and more menacing West cemetery, though, that is the soul of Highgate. Overgrown with ivy and briar, studded with marvellous Gothic monuments, this is a forest straight out of a Grimm Brothers fairytale. (Note: This part of the cemetery is accessible only by taking a guided tour. Please see the end of this piece for details) The Victorians were fascinated by the Egyptians, perhaps because they too were preoccupied with death. The splendid Egyptian Avenue is dominated by two huge obelisks decorated with papyrus and lotus leaves. Walk up the avenue and you will come to the spooky Circle of Lebanon, a ring of vaults and catacombs. They surround a massive Lebanon cedar tree thought to be over three hundred years old. Bram Stoker, the author of Dracula, was reportedly inspired by the eerie atmosphere of Highgate. It's not hard to believe in vampires when you are exploring the labyrinthine catacombs, or threading your way through the massive oak trees.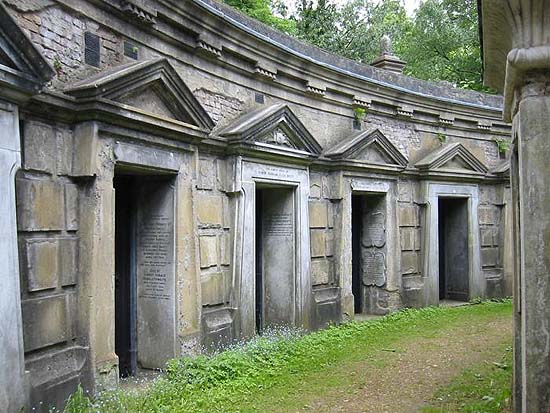 There are also many private graves which are much less showy, but with beautiful decorations in a setting straight out of a horror movie. Graceful angels, weeping figures and women carrying torches peep from clusters of overgrown grass. In the West cemetery, one will find a whip and inverted set of horseshoes on the headstone of coachman James Selby. Selby still holds the record for the fastest coach trip from London to Brighton and back, which he did in seven hours and fifty minutes. An almost life size figure of a resting lion is the memorial of George Wombell, proprietor of England's largest traveling menagerie in the early 19th century. Wombell began by displaying boa constrictors in London's taverns, charging a viewing fee of a penny. Don't miss the lavish mausoleum of financier Julius Beer, perched at the highest point in the cemetery. Beer was a Jewish newspaper mogul who rose from rags to riches, but was never quite accepted by the conservative Victorians because of his humble origins. Beers had a point to prove, and hired the finest Italian craftsmen to build his mausoleum, which cost him the then whopping sum of £5000, £2 to £3 million in today's money. His creation now queens it over the rest of the cemetery. Perhaps he found his acceptance in death, if not in life.
How to get there:
Highgate Cemetery, Swains Lane, N6
Tel: (020) 8340 1834.
Website: http://www.highgate-cemetery.org
Transport: London Underground Archway or Highgate, then a 10 minute walk up Highgate Hill through Waterlow Park. Bus no 210 to Waterlow Park.
It is important to note that most of Highgate's best attractions are in the West cemetery, which can only be visited by taking a guided tour that must be booked in advance and costs £5. Tours of the West are available at weekends and bank holidays all year long, and on weekdays (at 2pm only) from March to November. The East cemetery can be visited on your own for an admission price of £3. The tours are conducted by the excellent and very knowledgeable Friends of Highgate society, which helps conserve Highgate. The tour is on hilly ground and may not be suitable for people with walking difficulties. You will need to wear comfortable walking shoes and be appropriately dressed. See the website for opening hours.
Related Articles:
London's Victorian Garden Cemeteries, by Catherine Richards
---
Kavitha Rao is a freelance writer who has lived and worked in Mumbai, Bangkok, Hong Kong and Tokyo. She currently lives in London, and doesn't think she will ever tire of it. Her articles on culture, travel, literature and lifestyles have appeared in the Daily Telegraph, Asiaweek, the South China Morning Post and the Far Eastern Economic Review, among others.
---
Article © 2005 Kavitha Rao
Photos courtesy of Wikipedia.org