That's A-Mazing!
by Hazelle Jackson
Ask anyone to name their favourite maze and it's a good bet most people would chose the world- famous hedge maze at Hampton Court Palace, near London. This is the UK's oldest surviving hedge maze. It is known, with its myriad twists and turns and dead-ends, as a multicursal or puzzle maze. Hampton Court maze was commissioned in around 1690 by King William III, the former William of Orange, after he arrived in England with his wife Queen Mary to take over the English throne. Its unusual trapezoid shape covers a third of an acre and contains half a mile of paths.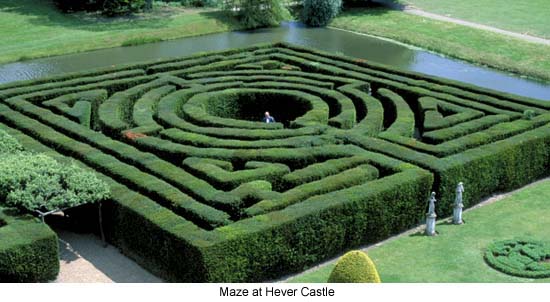 Previously the unicursal or single path maze was the most common form of maze in England. A unicursal maze has a single path winding to the centre, usually in a spiral, and is also called a labyrinth. This made it popular in religious architecture where the tortuous path through the labyrinth to the centre symbolised the Christian's challenging path through life to eternal redemption. At St Mary Redcliffe Church in Bristol, there is a unicursal maze on a fifteenth century roof boss in the north isle, which was carved by masons when restoration work was being carried in the Middle Ages. Ely Cathedral in Cambridgeshire has a unicursal pavement maze under the west tower, which was designed by Sir Gilbert Scott in 1870. The total length of the path is 215 feet which is also the height of the tower.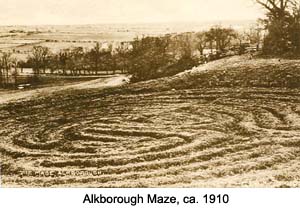 Unicursal mazes can also be cut into turf with the path laid as a shallow trench between raised ridges or banks of turf. A number of these turf mazes have survived in England from the Middle Ages to the present day. The largest unicursal turf labyrinth in Europe is at Saffron Walden in Essex, where it may once have been used for fertility rites. Other early surviving turf labyrinths include Julian's Bower at Alkborough, South Humberside; Hilton Maze on Hilton Common, Cambridgeshire and Wing Maze on Wing Common in Leicestershire.
While a turf maze is relatively easy to cut and maintain, the high hedges of a puzzle maze take years to grow and then need constant care and attention. At Hampton Court Palace, the maze has been repaired so often that the original hornbeam hedge is now largely replaced by yew. As a result the other historic hedge mazes in the UK date from the nineteenth century.

These include the splendid laurel maze at Glendurgan House in Cornwall which was first planted in 1833 and restored by the National Trust in 1996. At Somerleyton Hall in Suffolk, William Nesfield designed the surviving yew maze, with a pagoda on a mound at the centre, in 1846. Lord Egerton copied the beech maze at Tatton Park in Greater Manchester from the one at Hampton Court in around 1890.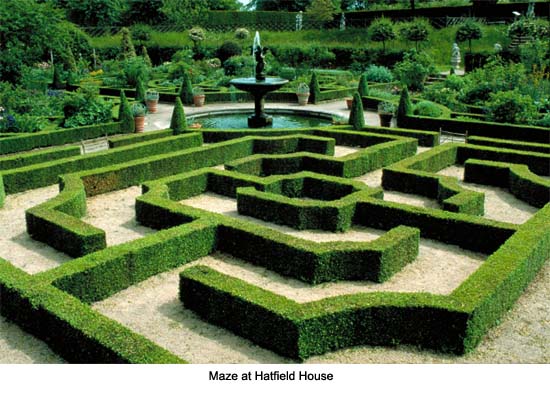 Mazes have been enjoying a revival in the UK in recent years. At the medieval manor house of Chenies in Buckinghamshire, a new circular turf maze was constructed in 1983 to a sixteenth century design. New mazes were also planted at Painswick House in Gloucestershire and Leeds Castle in Kent in the 1980s and at Leeds Castle the centre of the maze leads to an underground grotto for visitors to explore. The water maze at nearby Hever Castle, echoes early Italian water mazes, with spring loaded boards shooting jets of water at explorers who take a wrong turn. At Saltwell Park in Gateshead Co. Durham, the Victorian maze has been replanted to the original design, as part of a £10m restoration of the park.
Why not come and explore some mazes yourself?
Some English Mazes to Visit
Bridge End Gardens, Saffron Walden, Essex.

Yew maze originally planted in 1839 and restored by John Bosworth 1984; re-opened July 1991. (Tourist Information Centre Tel: 01799 24282).

Castle Bromwich Hall Gardens, West Midlands.

This is a rectangular mirror image of Hampton Court maze, late nineteenth century, restored 1990 with holly and hawthorn hedges (originally just holly). (Tel: 021 749 4100).

Chenies Manor House, Chenies, Buckinghamshire.

Circular turf maze built in 1983 by Denys Tweddell to a sixteenth century design, England (Tel: 01494 762888).

Glendurgan House near Falmouth, Cornwall.

(National Trust). Laurel maze designed by Alfred Fox, 1833; restored 1996 (Tel: 01208 74281).

Hampton Court Palace, Middlesex.

Trapezoid yew maze (originally hornbeam) designed by George London and Henry Wise, 1690. Britain's oldest surviving hedge maze. (Tel: 020 8977 8441).

Hazlehead Park, Aberdeen.

Rectangular privet maze, built by Sir Henry Alexander in 1935. (Telephone: 01224 522734).



Hever Castle, Edenbridge, Kent.

Square yew maze built for William Waldorf Astor in 1905. (Tel: 01732 865224).

Longleat House, near Warminster, Wiltshire.

Has a collection of contemporary mazes including a giant yew hedge maze, with wooden bridges, designed by Greg Bright in 1978; a "Labyrinth of Love" rose garden maze, designed by Graham Burgess in 1995; a Sun Maze" in low box hedge maze, designed by Randoll Coate in 1996; and a "Moon Maze" in low box hedge maze, designed by Randoll Coate, 1996. There is also a Mirror Maze constructed in 1998.

Maize Mazes

http://www.maizemaze.com/home_page_maze_visitors.htm
Cornfield mazes designed for "a great day out for the whole family."



Mistley Place, Manningtree, Essex.

Beech maze circa.1870, replanted in holly by Frank Pearson, 1989. England (Tel: 01206 396483).



Saltwell Park, Gateshead, Tyne & Wear.

Rectangular yew maze by William Wailes circa 1860, currently being replanted to original design. (Tel: 0191 433 3445).

Somerleyton Hall, near Lowestoft, Suffolk.

Yew maze with central pagoda on knoll, designed by William Nesfield, 1846. (Tel: 0137 984 505).

Tatton Park, Knutsford, Cheshire.

(National Trust) Beech maze, copy of Hampton Court maze, built by 4th Baron Lord Egerton circa 1890. (Tel: 01565 54822).

Worden Park, Leyland, Lancashire.

Beech maze with central mound, same design as Somerleyton Maze (designed by William Nesfield, 1846); built by a member of the Harington family, 1886. (Park Manager, Tel: 01772 421109).
Further reading:
Mazes, by Adrian Fisher and Diana Kingham (Shire Publications).
Magical Paths, by Jeff Saward (Mitchell Beazley 2002)
---
Hazelle Jackson is a freelance writer and historian with a particular interest in the historic landscape of the UK. Her features about the UK's historic environment and buildings appear regularly in the UK press and she is the author of several books about local and social history in the UK. She is currently Secretary of the Outdoor Writers' Guild and editor of "London Landscapes". Visit her website at http://www.follygarden.com, or e-mail her at hazelle.jackson@dial.pipex.com.
---
Article © 2003 Hazelle Jackson.
This article originally appeared in Living History magazine.
Alkborough, Hampton Court and Chenies photos courtesy of Hazelle Jackson. Blenheim Palace and Hatfield House photos courtesy of Britainonview.com