East Meets West: the Japanese Garden in England
by Hazelle Jackson
Even Sparrows
Freed from all fear of man
England in Spring
The British have long been fascinated by oriental gardens. For over two hundred years, between 1639-1854, Japan was in self-imposed exile from the West and only occasional travellers reported back tantalising glimpses of Japanese gardens and plants. When Japan reopened her borders in 1854, foreign visitors and plant collectors rushed abroad to study the newly revealed wonders of this exotic world. Among them were London nurseryman John Gould Veitch, who in the 1860s sent back a range of Japanese trees and plants to his nurseries at Coombe Wood at Kingston upon Thames in Surrey; and Robert Fortune, who imported a range of exotic species to the British market.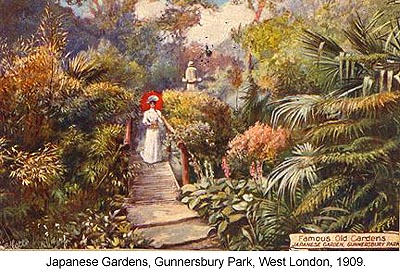 Interest in Japanese gardens gathered pace in the late 19th century when, in the 1880s, inspired by a Japanese garden near Lake Como in Italy, Leopold de Rothschild created a much admired garden of streams, small bridges, lanterns, and exotic plants at his Gunnersbury Park estate in West London. This was acclaimed by the Journal of Horticulture and Cottage Gardener in 1901 as "the most strictly true and magnificent gardens of Japanese design and composition to be found anywhere in the Kingdom." Sadly neglected in the late 20th century, the garden is now slowly being restored. In September 2001 a special ground-breaking ceremony, Jichinsai, was performed for the restoration at Gunnersbury by the Reverend Taira Kemmyo Sata of the Three Wheels Temple before a crowd of over 2,500 including local dignitaries and Japanese trade representatives.
At Tatton Park in Cheshire in the North West of England, Alan de Tatton Egerton brought over Japanese gardeners between 1910 and 1913 to create one of the finest Japanese gardens in Europe. The garden here was built in the style of a tea garden connected to an island, upon which rests a Shinto shrine. It was restored between 2000 and 2001 based on research by the Osaka University of Art, Japan.
In 1910 the Japan-British Exhibition was staged at the White City grounds in West London. Japanese gardeners laid out two large gardens, including traditional buildings, ornaments and plants imported specially for the show. The British public came, gazed and marvelled -- and all around the country a flurry of azaleas, maples, bamboo and even teahouses appeared in suburban gardens. The Japanese Garden in the White City district today was restored in 1955 and gardens and pond were replanted in 2001 to provide a historical link to the 1910 Exhibition.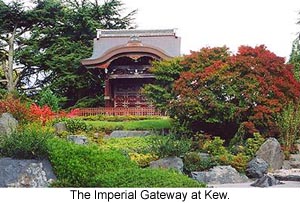 The Royal Botanic Gardens at Kew in South West London, founded in 1761 by Princess Augusta (the mother of King George III), have a long association with Japan. Besides holding outstanding collections of Japanese plants comprising over 750 species, the gardens are also home to the finest traditional Japanese building in Europe: the carved wooden Chokushi-Mon or Gateway of the Imperial Messenger. Originally constructed for the 1910 Japan-British Exhibition, the Gateway is a replica (four-fifths actual size) of the Karamon of Nishi Hongan-ji in Kyoto, which is built in the architectural style of the late 16th century Momoyama period. The intricately carved panels portray an ancient Chinese legend depicting the devotion of a pupil to his master. The replica was dismantled in 1911 and rebuilt in Kew Gardens. The mound on which it stands was once the site of Sir William Chambers' 18th century Mosque, hence its name of 'Mossy Hill'. The Gateway was last restored in 1995 when the lead-covered bark shingles on the roof were replaced with traditional copper tiles.
Chokushi-Mon is set in a traditional "dry stone" kaiyu shiki (stroll around) garden of the Momoyama period and includes a granite block inscribed with the Haiku that opens this article. The Haiku was composed in 1936 by Takahama Kyoshi (1874-1959), one of the last century's greatest Haiku poets, inspired by a visit to Kew. It was presented to Kew in 1979 by his fifth daughter and her poetry group.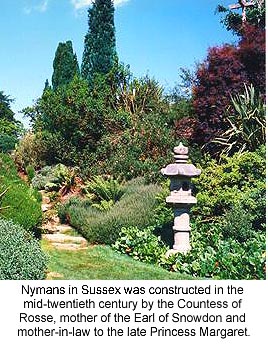 Japanese gardens originate in a very different culture from the western Christian tradition. Japanese gardening tradition draws heavily on the religious beliefs of Shinto, which ascribe to the Japanese landscape a divinity of its own; and on Zen-Buddhism, where followers seek to balance the in and yo (from the Chinese ying and yang) elements of the garden. Japanese garden designers use plants and hard landscaping to represent eternal concepts like Shin, meaning truth (often symbolised by miniature trees and flowers); Gyo or Dry Stone, meaning the strength of Nature expressed through hard landscape elements like rocks; and So or delicacy, seen in bamboo screens, small plants and green moss. Shakkei or "borrowed scenery" and water are also key elements.
The high maintenance required in a traditional Japanese garden is difficult to sustain without specialist gardeners, and not always sympathetic to the more whimsical English taste. In particular, the rigid Japanese pruning of trees to the required structural form often seems unduly harsh to British eyes. Reginald Farrer (1880-1920), an Edwardian plant collectgor who lived in Tokyo in 1903, memorably described this practice as "butchering."
Indeed, while in the early 20th century Japanese gardeners designed authentic Japanese gardens for wealthy men and women, the Japanese garden in the UK has evolved since then and should perhaps be more accurately regarded as a fusion of Japanese and English gardening. Original elements of Japanese garden design -- stone lanterns, the use of large rocks and pebbles, stone bowls of water, and decorative shrubs and flowers like acers, azaleas and lilies -- are now found in suburban gardens throughout the UK. Other British favourites that are thought of as traditionally Japanese -- such as red painted bridges -- are actually a British invention, and unlikely to be found in real Japanese gardens.
While the historic Japanese gardens in England today are better described as Anglo-Japanese, Japanese visitors are invariably too polite to tell us this. When a senior Japanese diplomat visited the Japanese garden created by Sir Frank Crisp at Friar Park near Henley-on-Thames in the early 20th century, he commented, "How beautiful -- we have nothing like this in Japan."
More Information:
Further Reading: Japanese Gardens in Britain, by Amanda Herries (Shire 2001).
Some Historic Japanese Gardens in England:
---
Hazelle Jackson is a freelance writer and historian with a particular interest in the historic landscape of the UK. Her features about the UK's historic environment and buildings appear regularly in the UK press and she is the author of several books about local and social history in the UK. She is currently Secretary of the Outdoor Writers' Guild and editor of "London Landscapes". Visit her website at http://www.follygarden.com, or e-mail her at hazelle.jackson@dial.pipex.com.
---
Article and photos © 2004 Hazelle Jackson.
Postcards from the Hazelle Jackson collection.
This article originally appeared in Living History magazine.