Winds of Change: Lincolnshire's Historic Windmills
by Mary Cook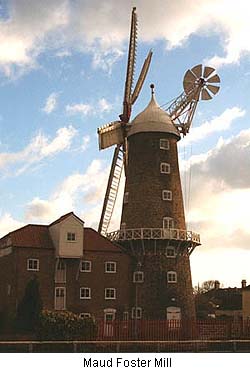 Historic Lincolnshire is a beguiling mix of rolling hills (The Wolds) and fenland, scattered with old towns and villages, and defined on its eastern side by miles of golden sands bordering the North Sea.
Around 800 windmills were grinding flour for Lincolnshire's inhabitants up to a century ago. But winds of change have blown across the county, leaving some mills in ruins while giving others a new lease of life. Local government organizations, charitable trusts and private enterprise have been working to convert them into tourist attractions.
Making Boston your touring base -- "the original Boston", as locals are proud to tell overseas visitors -- you'll find some attractive mills within easy reach. Founded in the seventh century, Boston is a thriving market town, rich in history, with strong associations with the Pilgrim Fathers. (For more information on Boston, see Boston of the Fenlands and Its Stump).
The Maud Foster Mill
You can walk from Boston town centre to the Maud Foster Mill. Built in 1819 and open to the public on designated days throughout the year, this privately owned windmill is Lincolnshire's tallest working mill. You can climb seven floors and watch the mechanism in action.
A shop sells organic flour ground on the premises, as well as souvenirs. And there's a tea room where you can sample local delicacies.
Sibsey Trader Mill
Trader Mill at Sibsey, five miles north of Boston, was built in 1877 by Saundersons of Louth. This fine example of a six-sailed working windmill is open to the public on designated days throughout the year. Like several other mills in the area, it has a tea shop and souvenirs for sale.
Alford Five-Sailed Windmill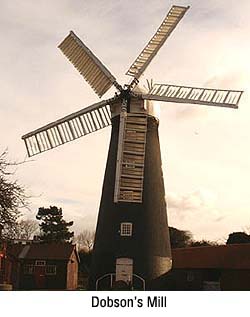 If you follow the A16 road from Boston, you'll be heading for the market town of Alford. At one time Alford had four mills with four, five and six sails apiece. One was last seen reduced to a single story and living out its retirement as a garden shed. If you peek over hedges and fences about the town you're likely to see millstones used as garden ornaments.
Today the town, whose market charter dates back to the 13th century, still has its five-sailed mill, known as the Hoyles Mill. Built in 1837 by local millwright John Oxley, it was operated commercially by the Hoyles family until it stopped working in 1955.
It was later bought by Fred Banks who restored it to working order. In 1978 he replaced the sails. That same year the mill was taken over by a local government authority who leased back to him. There have been two other leaseholders since.
The mill opens year round on designated days. In its tea room you can take a bite out of history with scones made from flour ground on the premises. And the engine house has been turned into an antiques centre.
Huttoft Tower Mill
The coastal village of Huttoft, where the prevailing wind blows off the sea, is about four miles from Alford on the A52 road.
Proving you can have too much wind, Huttoft's four-sailed windmill lost its sails in a storm of 1945 after about a century of milling. The building is now used by an animal feed merchant as a grain store. Its most distinctive features are the comparatively modern truck logo on the top and the original wrought iron staging which suggests the same firm that built Sibsey Trader Mill had a hand in this one.
Wainfleet
Bateman's Brewery has taken over a 200-year-old windmill in the picturesque town of Wainfleet, near Skegness, to produce ales brewed in the traditional way. You can't miss its giant beer bottle weather vane. The mill -- ivy-covered, but minus sails -- has a visitor center offering guided tours. Attractions include the biggest collection of beer bottles in the country. The base of the windmill is set out as a traditional English pub where you can raise a glass to this key aspect of England's heritage.
Burgh-le-Marsh Windmill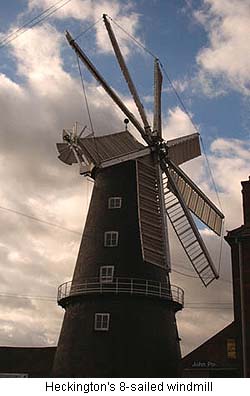 Local author Margaret Dickinson set her novel The Miller's Daughter here. Thoroughly researched, her book gives a true insight into the life of a Lincolnshire miller.
Rejoice all you left-handed people -- Dobson's Mill is left-handed! The only one in the county to turn clockwise, it's open to the public most Sundays. From a static display you can learn about the history of milling as well as buying souvenirs from the gift shop
Heckington Windmill
>One of Lincolnshire's most beautiful landmarks, Heckington Windmill is England's sole surviving eight-sailed mill. Visible from the A17 road, close to Sleaford, it was built in 1830 by Edward Ingledew, of Gainsborough, It originally had five sails. It fell into disrepair in the latter part of the 19th century and was nearly destroyed by a storm in 1890.
Boston miller John Pocklington resurrected it by replacing the sails with an eight-sailed arrangement he salvaged from another mill that was being demolished. Having refitted the mill he operated it until his death in 1941.The mill has since been rescued from dereliction by a local government authority with help from volunteer conservationists. It has a ground floor shop selling souvenirs, books and flour products.You can read about its history on Lincolnshire's windmill page.
Although windmills are thin on the ground today, wind power is making a comeback in Lincolnshire with clusters of wind turbines springing up along the coast. Now "windmills" produce electricity where they once produced flour. As they say, what goes around comes around.
Related Articles:
Boston of the Fenlands and Its Stump, by Lisa Agnew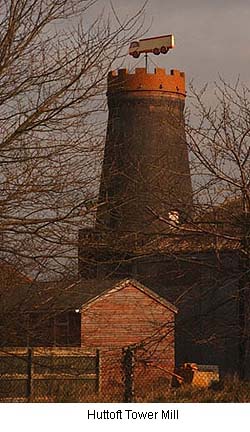 More Information:
Lincolnshire Windmills

The Alford Five-Sailed Windmill

Bateman's Brewery

Margaret Dickinson
Where to Stay and What to See in Boston
For accommodation, visit:
http://www.touristnetuk.com/em/lincolnshire/accommodation/ac-serviced/boston.htm
Tourist Information:
http://www.lincolnshire.gov.uk/venueDetails.asp?venuecode=20593
Tourist attractions:
Don't miss the Guildhall where the Pilgrim Fathers were held and tried in 1607. http://www.bostonuk.com/visitors/attractions.htm
What to See in Alford
While in Alford, birthplace of John Smith, first Governor of Virginia, and preacher Annie Hutchinson, founder of Rhode Island, you'll see the thatched Manor House Museum, currently undergoing major refurbishment: http://www.alford.info/manorhouse/manorhouse-museum.htm
What to See in Wainfleet:
The Magdalen Museum, a fine medieval brick building, is worth a visit: http://www.visitlincolnshire.com/exec/106515/1485/pcode=GBLIN0070X,database=twn_p_lin
---
Mary Cook has been freelancing for nearly 17 years, and has published numerous articles, short stories and poems in print and online publications. Her primary interests are humor, self-sufficient living, and the craft and business of writing. She lives in the county of Lincolnshire, "arguably one of the most beautiful and historic areas in the UK," and was a reporter for a regional paper for more than five years, during which time she provided most of the editorial content for the paper's annual tourist guides.
---
Article and photos © 2008 Mary Cook